Island Living 75: The Fire This Time
by A. D. Coleman
Strange to find your neighborhood suddenly in the news, and (given that it's generally "benignly neglected" by the media) all the more unsettling when the spotlight gets turned on because some bizarre and lurid crime draws the reporters. Weirdest of all, though, is when you know the people involved.
I've written before about the former Gelgisser's Hardware store, located across from the Stapleton Houses at 225 Broad St. My first apartment on Staten Island was on the top floor of the Gelgisser building, a community fixture for decades, so I have fond memories thereof. It pleased me when, not long after that long-lived emporium closed its doors, the place reopened as The New Beginning Second Hand Store, the reincarnation of an excellent and extensive thrift shop whose original venue -- an equally cavernous space just two blocks away at 147 Canal Street -- burned down suspiciously in September 2001.
The Fire Department declared that conflagration a case of arson, though they never identified a culprit. The owners and operators, Christopher and Temitayo Fabanwo, Nigerian emigrés, ran a lively, often raucous shop whose running dialogue constituted a theatrical and oratorical experience in itself, and you never knew what you'd find there. I have everything from excellent professional-quality cookware to an Apple laser printer, unusual folk art, Beethoven and Living Colour CDs, and signed first editions of poetry books that I bought from them, always at good prices. Nothing was ever marked with a sticker, everything was negotiable, yard-sale style. As a writer, I have a wide repertoire of distractions; going in there to browse represented a reward I used frequently as an incentive to complete some unpleasant or urgent task. I'd wandered around its tight aisles, poked through its jumbled shelves, and made my last purchase, as recently as January 11.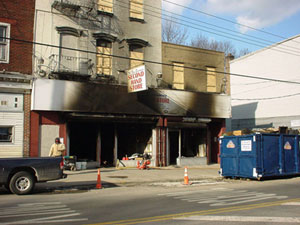 At 1:20 p.m. on the afternoon of Tuesday, January 14, according to the police, three of the store's employees -- Sandra Sharma, her daughter Maria, and her son Thomas Therrien, according to the Staten Island Advance report of the next day, all of them living just two blocks from me at 300 Van Duzer St. -- used matches to set fire to a rack of used clothes in the rear of the store. The police reports indicate, as the motive offered by one suspect, that Sandra was tired of folding clothing. To my surprise, I knew her, though only in passing; I'd seen her on the street, and she'd stopped me once to chat about one of my columns for this paper.
Mrs. Fabanwo was away from the establishment at the time the fire took hold. When the alarm was given, her husband Christopher shepherded the customers out of the place and, with the help of another employee, attempted to quell the flames with extinguishers. Apparently that didn't work well enough; the fire spread, turning into a four-alarm inferno to which 170 firemen eventually responded. Not until 4 p.m. did they manage to contain the holocaust, by which time they'd discovered that Mr. Fabanwo had gotten trapped in the rear of the store, and had succumbed to smoke inhalation.
I heard the news early that evening, while having dinner in the Bombay Diner, a new Indian fast-food restaurant that's opened up on Wright St., and immediately walked over to the scene. Broad Street was still blocked off, partly because it bore a coating of ice, the result of all that water from the fire hoses on a freezing-cold day. There were still a few fire trucks at the scene, and several firemen -- plus, I now realize, arson investigators -- poking around inside. The ground-floor store itself was gutted and scorched. The building next door was damaged. Smoke streaks smudged the exterior; all the windows were gone. From the back, I'd seen that much of the apartment I'd once inhabited had surrendered to the flames. In a mere two-and-a-half hours, what had functioned for two-thirds of a century as a residence and a place of business had turned into a ruin, and a space for commerce and social interaction found itself converted to the stage of a tragedy.
In the night, with the front bathed in the glare of lights from the fire truck, I watched the last remaining firefighters finish their scrutiny of the wrecked interior. They cut the padlocks from the housing for the chains that raise and lower the protective metal gates for the storefront, letting them fall, and I went home. I drove past the next day, and stopped for a minute to see it in the daylight, stained and streaked and suddenly a sorry sight in the bright sun.
The building has now been evacuated, and will probably have to come down. If it does, it will be the first of all the buildings in which I've ever lived -- in three of the boroughs of New York, on Martha's Vineyard, in San Francisco, and in Golfe-Juan, France -- to vanish.
What's saddest, of course, is neither that nor the destruction of a useful and thriving local business that brought some jobs and money into this neighborhood, but the senseless death of a decent man, Christopher Fabanwo, an industrious and likable guy. I saw his distraught widow and family on the Channel 11 News the night after the fire. The Sharma family's now under arrest, charged with arson and probably facing murder charges (as well as an inquiry into their possible connection to the earlier fire). It's peculiar, as I said, to find people you know in everyday life suddenly on your TV screen -- as if they've somehow stepped from one reality into another. Mrs. Fabanwo, clearly at a loss to explain this senseless act, blamed it on the Devil. I don't have anything more rational than that to offer; given the contortions to which the human psyche is subject, that may be the best explanation we'll get.
Mrs. Fabanwo and I chatted whenever I came in and she was behind the counter, and we had a running joke. I never quite understood how she calculated her prices on whatever I bought. Usually -- by thrift-shop standards -- they were reasonable, but sometimes they struck me as high (though rarely so much out of line that I declined the purchase). If that was the case, we bargained. Occasionally, we reached an impasse. Whenever that happened, we had an arrangement; we alternated. Some days were her days, and I paid what she asked without haggling further; some days were my days, and she accepted my lower bid. Last Saturday, January 11, the last time I went in there, it had been her day. January 14, clearly, was not.
I want to offer my deepest sympathies and condolences to the Fabanwo family for their several losses -- the death of Christopher Fabanwo, and the ravaging of their family business. These are also serious setbacks for this community, and they're noted, and mourned. Stapleton needs its residents, and its entrepreneurs. I hope that they will recover, and stay, and reopen. I hope it will eventually be Mrs. Fabanwo's day again.

(Photo credit: "New Beginnings, January 2003," © Copyright 2003 by A. D. Coleman. All rights reserved.)

© Copyright 2003 by A. D. Coleman. All rights reserved.
By permission of the author and Image/World Syndication Services,
P.O.B. 040078, Staten Island, New York 10304-0002 USA.